New Bridge Middle School
We are the New Bridge Middle School Bears
Our school building was constructed in 1941 and opened as Jacksonville Senior High School. The school later became Jacksonville Junior High School and then Jacksonville Middle School. The students, faculty, administration and staff of Jacksonville Middle School were transferred to a new building (Jacksonville Commons Middle School). The building was closed, remodeled and reopened in the fall of 1998 as New Bridge Middle School.
Welcome to New Bridge Middle School!
Located in the center of Jacksonville, North Carolina, New Bridge Middle is Onslow County's first magnet school. Since its doors opened in the fall of 1998, New Bridge Middle School has offered a curriculum with a focus in math, science and technology along with many special programs to foster learning in a variety of areas. Students at NBMS excel in athletics, leadership, music and the arts, and demonstrate citizenship through various community service projects.
The staff at our school offers an exciting and varied program to students in grades six through eight. Many innovative activities focusing on differentiated learning styles have resulted in vast academic gains for all students. Our staff carries out our mission with the same enthusiasm that has always driven New Bridge Middle School's success. At New Bridge Middle School, all children can succeed.
Characteristics of the School
New Bridge is located in downtown Jacksonville, just blocks from both the Jacksonville City Hall and the Onslow County Courthouse. Constructed in 1941, the building first housed Jacksonville High School and then Jacksonville Middle School. The school was closed for renovations in 1997 to be reopened in the fall of 1998 as New Bridge Middle School, with the purpose of relieving overcrowded conditions in other area middle schools.
The application process to attend NBMS involves the use of a computer program that randomly selects students who have applied. Parents agree to support teachers in the expectations of high achievement and students must adhere to a prescribed dress code. The faculty and staff believe this dress code reduces discipline problems and instills school pride.
New Bridge Middle School is unique in that it draws students from every corner of Onslow County. Friendships are formed among students who might otherwise not have ever known each other. The school's location and large attendance area pose many challenges for the Onslow County Schools Transportation Department. Unfortunately, many students experience lengthy daily bus rides to and from such areas as Topsail Island, Swansboro, Richlands and Maysville. Despite these challenges, in the short time we have been open, New Bridge has developed a reputation as a school that sets high standards in a caring and nurturing environment.
Home District
From 1998 to 2010, all NBMS students were selected through the lottery process. With the 2010-11 school year, New Bridge began the process of becoming a "true magnet" school by creating a student body with both a lottery population and a home district population. Instead of drawing new home disctrict borders, the Onslow County Board of Education selected to utilize the existing Clyde Erwin Magnet Elementary School borders.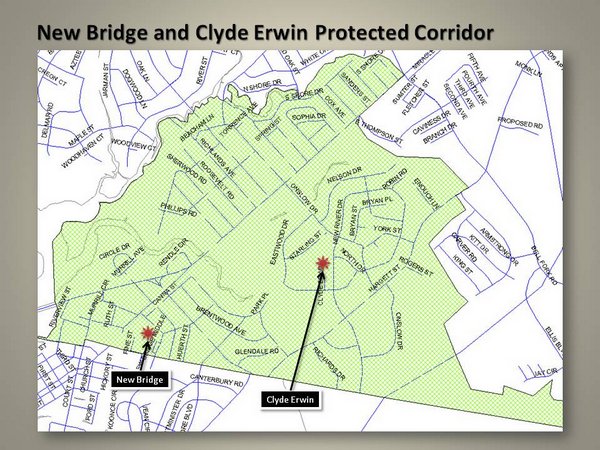 Transportation Information (updated 7/29/15)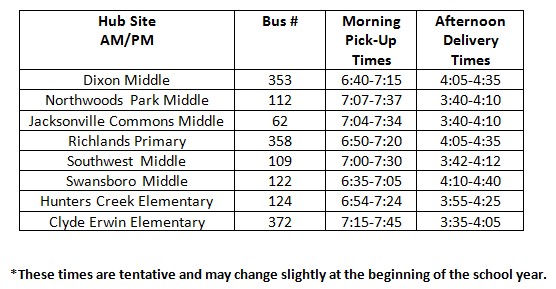 STEAM Power
New Bridge Middle School is S.T.E.A.M. powered. S.T.E.A.M. is an acronym for Science, Technology, Engineering, the Arts, and Mathematics. Nationally, STEM education has gotten a great deal of attention by researchers, practitioners, politicians, and citizens. As a magnet school of science, technology, and mathematics, we have found STEM to be a good fit with our existing focus. Additionally, with a strong arts education department, we've incorporated the ARTS into the STEM framework.
STEAM Defined
At New Bridge Middle School, STEAM provides real world relevance to our students. The STEAM framework provides effective and relevant connections between 21st century learning skills and how those skills are used across all disciplines. STEAM is accomplished by providing:
Connections

to STEM-related careers and across disciplines in order to explain core learning concepts and provide real world relevancy to 21st century learning skills.

Performance Tasks

that create a project based environment where students are challenged to solve a situation using a multi-disciplinary approach.

Literacy Tasks

to apply the knowledge defined by the curriculum to create an informational or argumentative product while using essential skills in reading and writing.

Real-World and Immersive Simulations that create an environment in which students act as a community of scientists, technologists, engineers, or mathematicians.
Community Involvement

that allows students and teachers to collaborate with leaders in STEM fields and focus on community and global issues.
Why a STEAM focus?
This special focus is based on our recognition that STEM education is necessary to prepare NBMS students to be globally competitive and to meet the challenges of the future. We have a shared belief that the arts are a necessary mechanism for students to learn. Therefore, STEAM is a framework for teaching across academic disciplines and utilizes the ARTS to creatively engage students and further the goals of scientific discovery and technological innovation. Researchers have also found a strong relationship between instruction in the arts and learning mathematical skills and improving student observational skills in science. Students who study music show improved spatial temporal-reasoning skills, which help in the understanding of mathematical concepts. Those who study art are able to apply the observational skills learned in art to critically view a painting or to observe a science experiment. The tools and methods utilized in art and design further our STEM goals through the development of original, creative and critical thinking.
STEAM in Action
Teachers work collaboratively in all subject areas.

Units and lessons organized around BIG IDEAS and ESSENTIAL QUESTIONS. Teachers identify INTEGRATION opportunities, the ENDURING UNDERSTANDING of lessons and units, and links to our professional teaching standards and the 21st Century goals for student learning.

STEAM plans are written and recorded in teacher leasson plans.

In the STEAM framework, students act as scientists, engineers, mathematicians, and artists.

Science is seen more as a journey rather than a destination.

STEAM lessons immerse students in science, math, technology, and engineering.

Science is PRACTICED by our students in a manner similar to the community of scientists

Core content is essential, but it only begins the process. STEAM lessons attempt to build upon core content knowledge and create pathways to answers.
STEAM initiatives at NBMS include:
B.E.A.R.S. have P.R.I.D.E
Our theme is - B.E.A.R.S. have P.R.I.D.E. B.E.A.R.S. not only represents our mascot, but will also serve as our school-wide guidelines for success. B.E.A.R.S. stands for Be prepared, Everyone shows respect, Attitude matters, Remember responsibilities and Safety first. P.R.I.D.E. is our school-wide effort focusing on everyone's Personal Responsibility In Dynamic Education.