Summary Statement: The Civic Oration contest is an individual student (non-team), competition-based activity conducted primarily through Language Arts classes. The contest is open to students of all grade levels. Individual teachers narrow participation through classroom level activities. Interested students should see Mrs. Sarah Edwards or any Language Arts teacher.
History
In 1948, Modern Woodmen of America developed this contest to offer students an opportunity to develop skills in clear thinking and public speaking. Today, it is an important event in schools across the nation. The materials are provided by Modern Woodmen.
Developing Lifelong Skills
By preparing and giving a three- to five-minute speech for this contest, participants learn skills that will help with school projects, job interviews and even careers. The contest gives kids a chance to:
Gain new public speaking skills.

Fine-tune existing English skills.

Enhance self-esteem.

Earn pins, trophies and recognition.
NBMS and the Oration Contest
Since we opened our doors in 1998, New Bridge Middle School has participated in the annual contest. Many of the student winners at the school level have gone on to win at the county, district and state levels. If you have any questions, please contact the oration organizer, Mrs. Sarah Edwards (6th Grade Language Arts).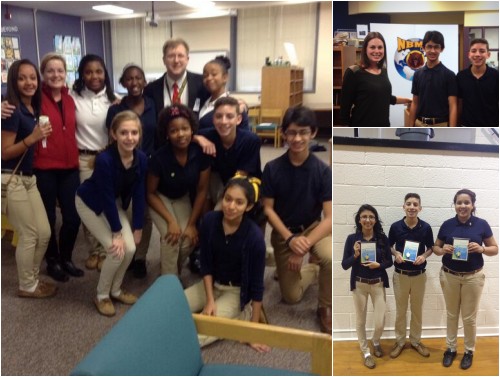 The Contest

Level I- School Level: @ New Bridge; March 10th at 9:00 am (Media Center)

Level II- County Level: @ Family Ed. Center; (1

st

and 2

nd

Place winners from Level I)

Level III- Regional Level: @ White Oak High; (1

st

and 2

nd

Place winners from Level II) @ 7pm
2017 School Speech Contest topic: "What makes a hero?"


Speeches must be at least three minutes and no longer than five minutes long, and must be in the students' own words.
Judging criteria

Contestants will be judged using the following 100-point system:
40 points for material organization
This accounts for theme and subject adherence, structure, content, logic and color.

40 points for delivery and presentation
This includes voice, pronunciation, enunciation, gestures and poise.

20 points for overall effectiveness
This scores impression and effect.
Rules summary
A minimum of 10 students must participate.

The contest must be held between Jan. 1 and May 31.

A School Speech Contest order form must be completed and submitted to Modern Woodmen each year, at least 30 days before the contest.

Speech content must be each student's own thoughts and words on the topic, "An interesting landmark".

No costumes, visuals or props may be used at the contest. If used, 50 points will be deducted.

At the school's discretion, speeches may be memorized or notes may be used, but students must be notified of the decision two weeks before the contest.

Each speech must be three to five minutes long. Penalty points will be assessed for speeches over or under the time limit.
Judges are not members of the school staff and are not connected to the participants. Typically judges are principals or assistant principals from other schools. Pictured below are the 2012 judges of the NBMS contest.