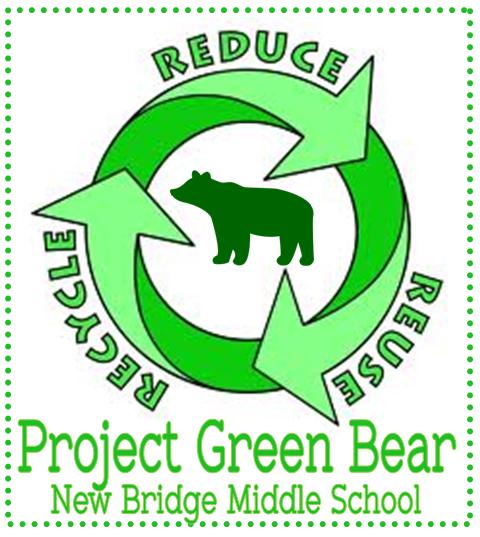 Summary Statement: PGB is a service project with membership/participation open to students in all grade levels. This is an open (no tryouts) project with collection and sorting duties throughout the year. Interested students should see Mr. Gerichten.
HISTORY of PROJECT GREEN BEAR
In 2001, Mr. Gerichten began a school wide recycling program. Since that time, Mr. Gerichten has coordinated a very successful recycling effort. Considered to be the most successful, consistent and sustained recycling effort in Onslow County Schools, in 2010, Mr. Gerichten was awarded the Robert L. Franck Environmental Teacher of the Year (by the Keep Onslow Beautiful committee).
SUMMARY of PROJECT GREEN BEAR
Project Green Bear is the school-wide recycling effort for NBMS. We aim to reduce, reuse and recycle.
OBJECTIVES of PROJECT GREEN BEAR
reduce waste, reuse when possible and recycle all appropriate items,

recognize recyclable and non-recyclable products,

gain an appreciation for the dynamics of waste management and recycling,

discuss the impact of waste on the environment,

identify alternatives to trashing and using landfills,

be proficient in collecting data, and using that data to generate ideas and possible solution to a problem, and

maintain a viable recycling plan for New Bridge Middle.
COMPONENTS of PROJECT GREEN BEAR
Content: Participating students build a knowledge base regarding waste products, recycling and the environment. In order to manage an effective recycling program, students go through a process involving the following steps: assessment of the problem, collaboration with others, compilation of data, and implementing a recycling plan.
Process: While many classroom activities are paperless, schools and classrooms still generate quite a bit of paper and other recyclable waste. Participating students have the opportunity to understand the problem of waste management and recycling. By participating in Project Green Bear, students bring solutions to real-world problems concerning our school environment.
Product: The end product of Project Green Bear is an effective school-wide recycling plan. The plan involves the use of recycling bins in every classroom, office, cafeteria and lounge. On a weekly basis, participating students and staff will collect, sort, and deposit our recyclable items. The City of Jacksonville provides weekly collection of recyclables.
WANT TO PARTICIPATE?
Students interested in helping should speak with a homeroom teacher or Mr. Gerichten.