SUMMARY STATEMENT: Digital Learning Day is a single day, technology event held at New Bridge Middle School. Students in 6th, 7th, and 8th grade participate in lessons with a particular emphasis on digital learning. For more information, see Mrs. Feldhaus.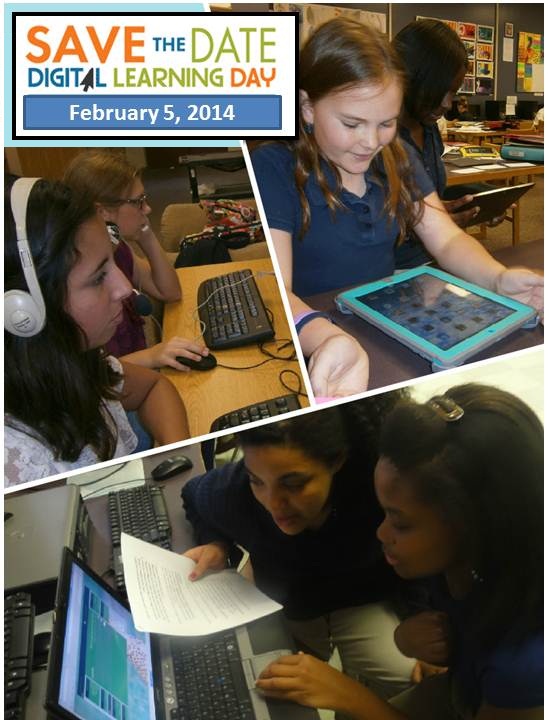 DATES:
New Bridge will join millions of U.S. students participating in activities during Digital Learning Day on the following dates:
- Feb. 6, 2013
- Feb. 5, 2014
- Feb. 4, 2015
- Feb. 3, 2016
- Feb. 1, 2017
PURPOSE:
Digital Learning Day is a campaign to promote digital learning and spotlight successful instructional technology practice in the classroom.
Go to: www.digitallearningday.org
HIGHLIGHTS from 2013:
Mr. Krogsrud's students (6th grade math) completing the robotic challenge,

Mrs. Sullivan's students (6th grade social studies) geocaching,

Ms. Laurie's students (7th grade social studies) using QR codes, and

Mrs. B. Edwards' students (8th grade English Language Arts) participating in digital collaboration with students from Thompson Early Learning Center.
DIGITAL NATIVES:
Today's students are digitally connected and find technology to be an engaging vehicle for dealing with the curriculum. Bill Nye describes students as "Digital Natives" because of their reliance on technology. Digital Learning Day is just one example of New Bridge teachers using technology effectively in the classroom to reach these digital natives.