Summary Statement: Academic Derby is a quiz bowl style academic competition team with initial tryouts, after school practices and competitions during the school day against other middle schools in Onslow County. Students interested in trying out should see Mrs. Bender.
NBMS Team:
New Bridge Middle School students interested in being on the Academic Derby team can take a test with Mrs. Bender (our coach) during the Fall semester. Students selected to be on the team will attend practices and games throughout the year. The games are recorded and broadcast.
Check out our television shows on the WEB!
Below is a picture of our undefeated 2014 Academic Derby Team receiving their trophy from Dr. Lesley Eason at an Onslow County Board of Education meeting.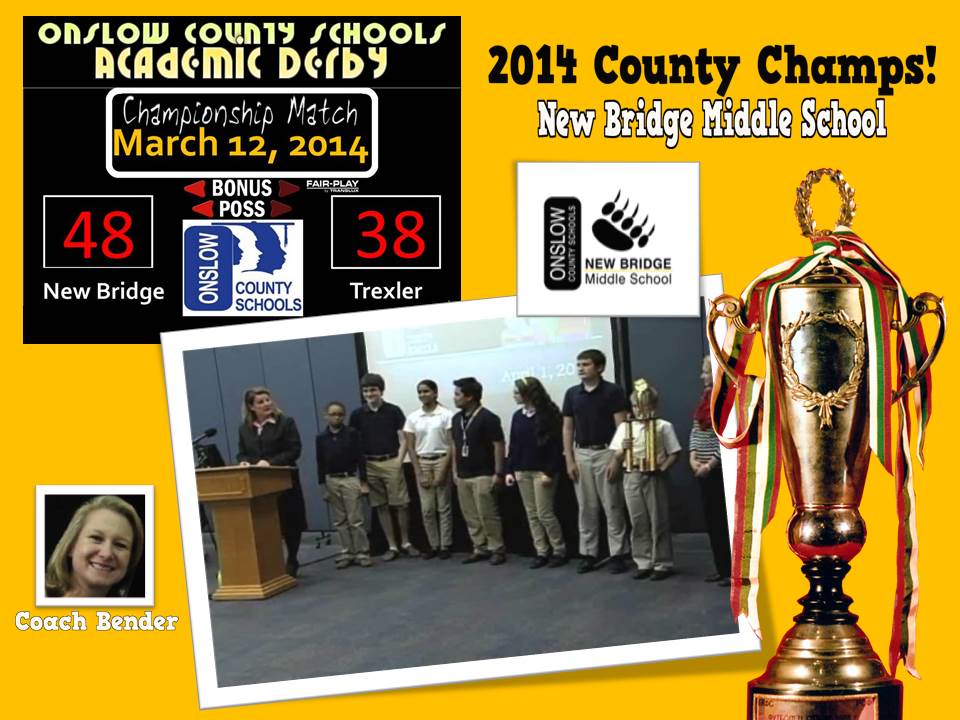 Academic Derby is taped at the Onslow County Studio located at Southwest High School. Shows are then produced and broadcast on local cable channels. They run in the order in which they are played, elementary schools that play first game air first, second are second, middle school, then high schools in the fall line up.
Jacksonville -- Government Channel 10 -- Friday
4:00 pm - Elementary
5:00 pm - Middle
6:00 pm - High School
Shows are streamed as they are played live at

Shows are also streamed at www.onslowcounty.tv