Congrats to the 2017 New Bridge Softball Team!!!
Andrea Davila
Reya Gonzalez
Ashley Hayes
Janelle Heinrich
Erin Hrudka
Marindia Humbert
Alexis Jefferson
Katie Komorowski
Mallory McDonald
Morgan McRae
Kaileanne Pesqueira
Ava Perozzi
Sarah Riggs
Gigi Roman
Practice will be Wednesday and Thursday this week until 5:15. Practice will be at Johnnie Crawford Field at Kerr Street Park (directions are below). Due to new athletic policies, A contraption known as a wet-bulb check the weather conditions (temperature, humidity, precipation, etc.). If it is 90 or higher, sports are unable to practice outside. Due to this or there are poor field condtions, practice may be located at the New Bridge Middle School Gymnasium.
In order to participate, student-athletes must have up-to-date physicals and proof of insurance. If you have any questions please contact Coach Stoneham via e-mail (collin.stoneham@onslow.k12.nc.us).
Softball Parents-
If you'd like to receive text-based updates about changes in practice or games, please text the code as follows:
For softball, text @nbsb to (704) 419- 8725
This is a free program through REMIND! Your phone number will not be shared with us nor with anyone else on the list. If you have questions, contact Mr. Mahouchick, NBMS Athletic Director.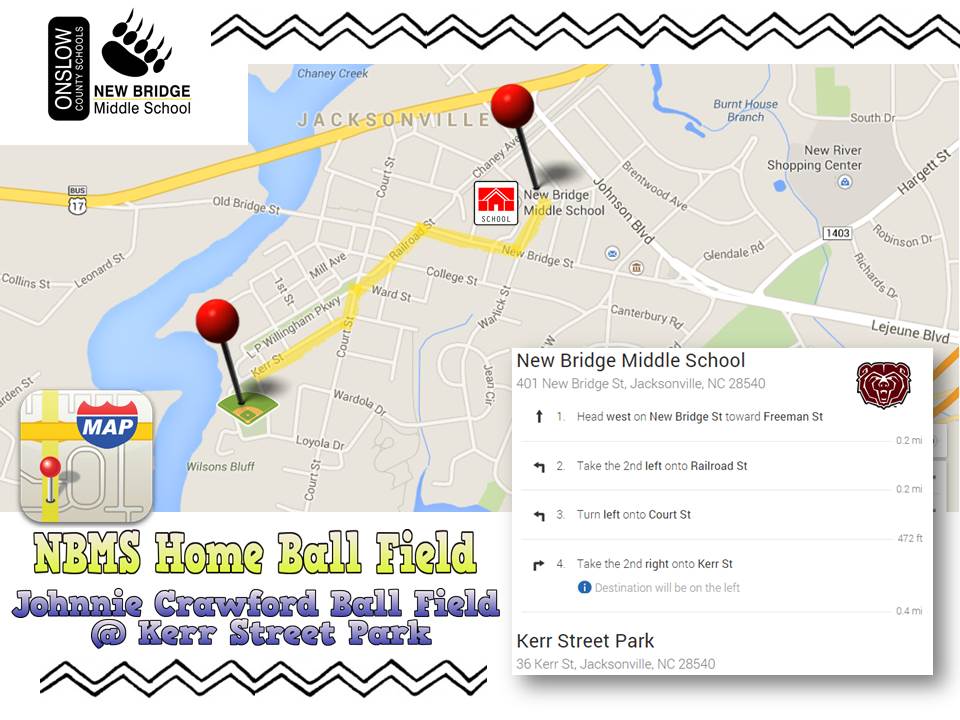 Previous NBMS Softball Records:
2016: 5-3
2015: 5-3
2014: 6-2
2013: 5-3