A Visit by the Dreams Bus
Traveling science lab stops in Onslow
(From the Jacksonville Daily News: http://www.jdnews.com/articles/old-84231-first-thought.html)
October 30, 2010 7:45 AM SUZANNE ULBRICH
Examining her own DNA for the first time, 12-year-old Rukmini Arcot thought it looked like a jelly fish.
"And some others looked like a little mountain at the bottom of the vial," she said.
University of North Carolina Morehead Planetarium and Science Center brought its DREAMS Traveling Science Laboratory to New Bridge Middle School Thursday. The fully equipped mobile science lab accommodated 24 students at a time and provided a hands-on experience in science learning.
Three seventh grade classes received education and instruction titled "Genes in a Bottle."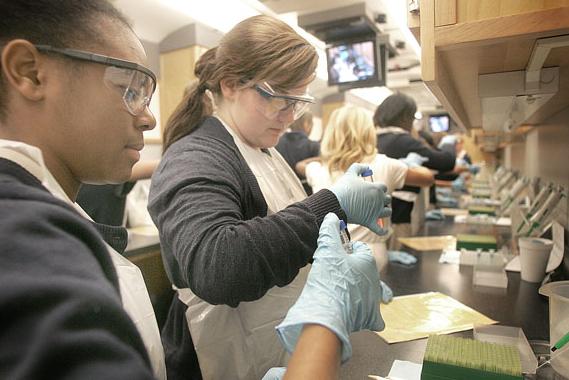 Each student extracted DNA from their own cheek cells using a simple laboratory procedure and then watched their gargling solution transform into floating white strands of their own DNA.
On Friday each student took their DNA strands and transferred them into a vial necklace provided to them after the demonstration, said Margie Anderson, the school's seventh and eighth grade science teacher.
"They can take that home and they'll have that to keep forever," she said.
Anderson said she requested the "Genes in a Bottle" module because her classes have been learning all about cells, including cell structure and DNA.
It is also a precursor to a multiple course learning activity planned for January in which teachers prepare a mock crime scene.
"Science and math classes will analyze evidence from the crime scene; language arts classes will do various write-ups, social studies will do a mock trial of suspects," Anderson said. "The kids love it."
Science Education Specialist Cathy Pike said the Destiny Traveling Science Learning Program was designed to pique student's interest in science.
"We like to expose students to biotechnology equipment at an early age; hopefully they'll want to pursue science as a career," she said.
University of North Carolina Morehead Planetarium and Science Center has two fully equipped mobile science laboratories, Destiny and Discovery, delivering science education experiences to schools across North Carolina throughout the school year, Pike said.
And its program has provided professional development activities for nearly 2,000 North Carolina teachers.
Lauren Sarno, 12, said she thought it was cool to see the DNA.
"I've been looking forward to this for a while and I'm so glad we got to go on the bus - it was a lot of fun," she said.
Hands-on learning and tying curriculums together enhance learning, said Principal Christopher Barnes.
"I talked to my daughter after she was on the bus, and she really gets it," he said. "It's really learning."