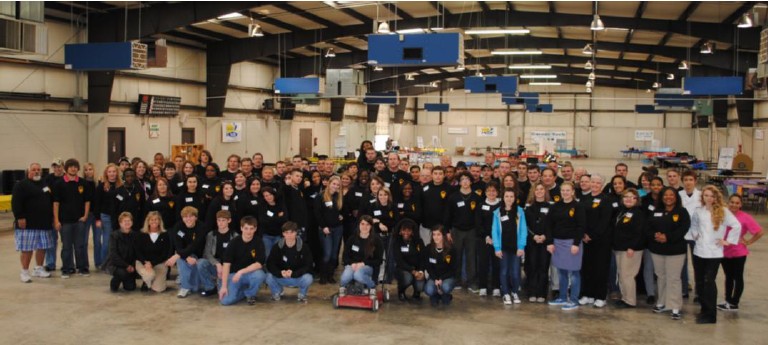 Along with other students from across Onslow County, New Bridge Middle School's 8th graders arrived at the American Legion building on Tuesday, February 21st, for the Eighth Annual CTE Showcase. In total, approximately 1800 middle schoolers made their way through the demonstrations and displays to see what Career and Technical Education has to offer them as they prepare to register for their 9th grade year. Students made bird houses, used fire extinguishers, created head bands, observed welding expertise, made culinary chocolate designs, and learned some great masonry tips.
Over 75 high school students volunteered to share skills that may be acquired by enrolling in one of over 80 different CTE courses offered within the Onslow County School System. The high school students also provided personal testimonials of the benefits they have already received as a result of possessing credentials earned from their CTE courses.
Teachers answered many questions from the rising freshmen about CTE classes. They shared with the students the benefits of successfully completing CTE classes to prepare for a variety of occupations. Electrical Trades demonstrations, infant simulators from Parent and Child Development, Computer Programming and Automotive Electric and Brakes were all popular stations the students moved between. From teachers who came with the students, to the students themselves, the comments were all positive and the conversations between the high school and middle school students were engaging.
This article was adapted from Friday Focus XXII, 2-24-12