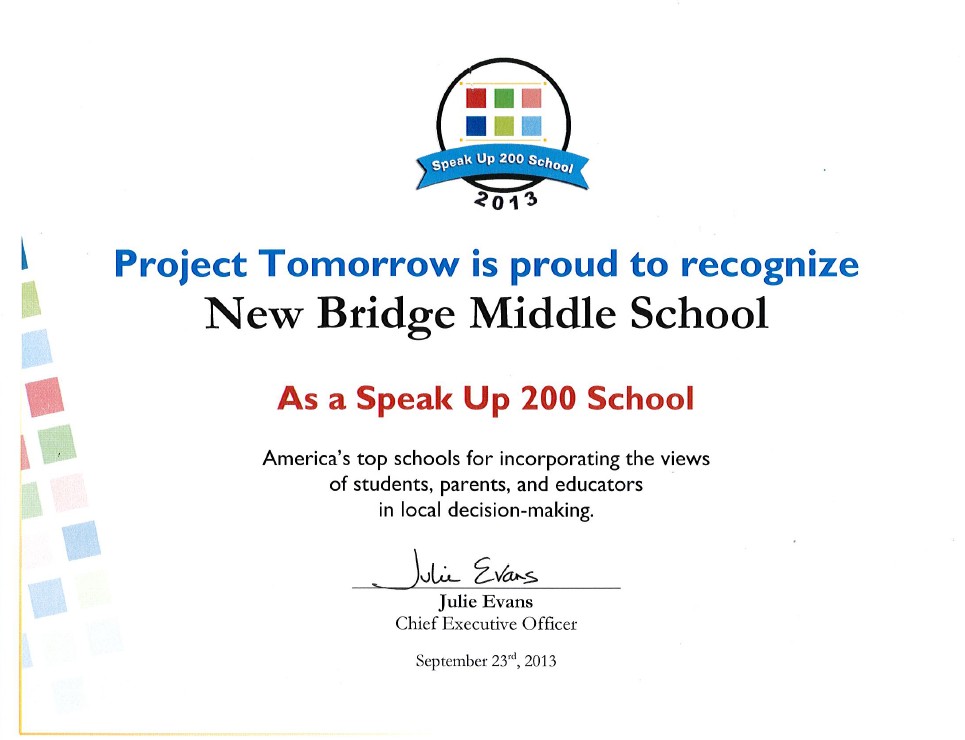 Speak Up 200 Recognizes New Bridge Middle School for Incorporating Student, Teacher, Parent, and School Administrator Ideas into Local Education Planning
Project Tomorrow Recognized the 2012 Speak Up 200: Schools and Districts
Who Are Empowering Students, Teachers and Parents in Decision-Making
IRVINE, CA. (September 23rd, 2013) – New Bridge Middle School and 199 other schools and districts across the country were recognized for incorporating feedback from their students as they develop strategic plans, make budgeting decisions, enhance their curriculum and determine professional development needs. Project Tomorrow®, a national education nonprofit, announced this year's Speak Up 200, a collection of the top K-12 schools in the country that encourage and involve authentic student, parent and educator ideas and views in education planning and decision-making.
"I am very excited to announce our honor roll of the top schools in the country that demonstrated by their high levels of participation in Speak Up 2012 their commitment to listening to their stakeholders' views on education and digital learning," said Julie Evans, CEO of Project Tomorrow. "This year's Speak Up 200 schools have done an excellent job of incorporating the views of students, parents, educators, and administrators in local decision-making. Each year, we strive to make progress in leveraging technology to enhance the educational experience for all in involved in our schools across the nation, and this year's Speak Up 200 cohort proves this goal is possible and attainable."
The schools were selected for this national distinction from the 35,000 schools nationwide that have participated in the annual Speak Up surveys, conducted by Project Tomorrow, since 2003. The Speak Up National Research Project collects K-12 student, parent and educator viewpoints on technology, 21st century education and student aspirations through an annual online survey process and shares that data with national, state and local policymakers to improve education for all children.
The schools selected for the 2012 Speak Up 200 represent a broad range of educational institutions in rural, suburban and urban communities. The complete list of Speak Up 200 recognized schools are highlighted on the Project Tomorrow website at http://www.tomorrow.org/speakup/speakup_200.html.