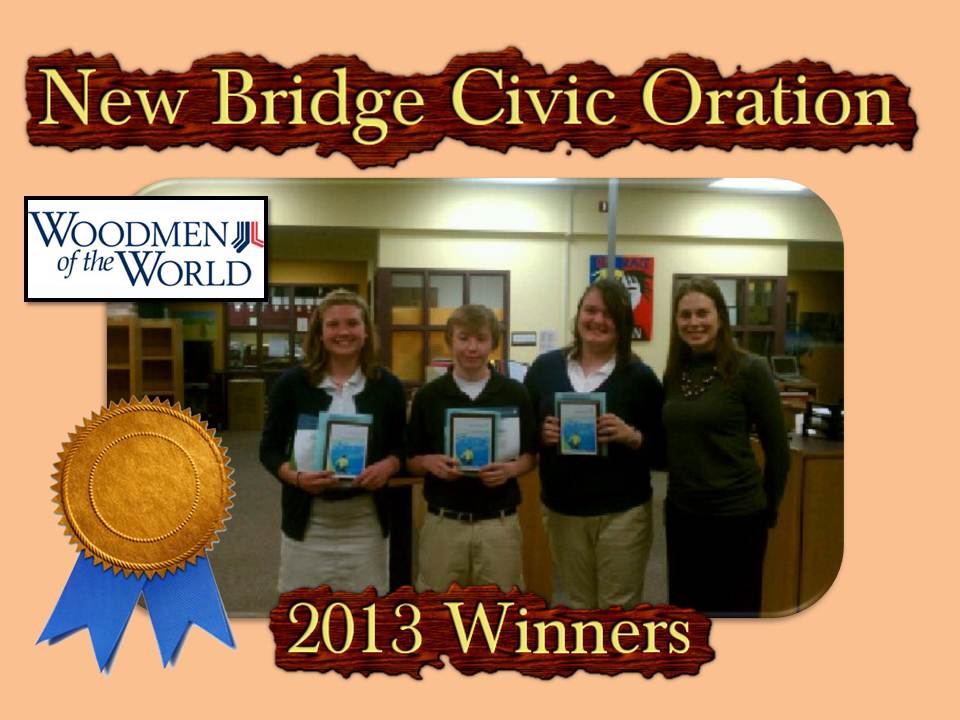 NBMS and the Oration Contest
Since we opened our doors in 1998, New Bridge Middle School has participated in the annual contest. Many of the student winners at the school level have gone on to win at the county, district and state levels. If you have any questions, please contact the oration organizer, Mrs. Sarah Edwards (8th Grade Language Arts).
The 2014 Contest

Level I- School Level: @ New Bridge;

Friday, March 7, 2014

Level II- County Level: @ Family Ed. Center; April 11, 2014 (1st and 2nd Place winners from Level I)
Level III- Regional Level: @ White Oak High; May 8, 2014 (1st and 2nd Place winners from Level II) @ 7pm
2014 Topic - The Importance of Healthy Living
Students are asked to consider how maintaining a healthy lifestyle is important for individuals, communities or even the nation as a whole. Participants can choose to focus on various aspects of health - including, but not limited to, exercise, nutrition, obesity, disease prevention or mental health.
In organizing their speeches, students can use these questions to help formulate ideas, but they should not be limited by this list:
What is the student's definition of a healthy lifestyle?

How does an individual's decision to maintain a healthy lifestyle impact his/her own life and those around him/her?

What can communities do to assist individuals in improving their health? (Consider examples of community or government initiatives that have had a positive impact on overall health.)
Students can use the questions above to help formulate ideas, but they should not be limited by the list.
Basic Rules
Speeches must be at least three minutes and no longer than five minutes long. Speeches must be in the students' own words.
Judging Criteria
Contestants will be judged using the following 100-point system:
40 points for material organization- This accounts for theme and subject adherence, structure, content, logic and color.
40 points for delivery and presentation- This includes voice, pronunciation, enunciation, gestures and poise.
20 points for overall effectiveness- This scores impression and effect.