The students of New Bridge Middle School are excited about the upcoming Thanksgiving holiday (Nov. 25 – Nov. 29). As we lead up to it, we pause to think about the many things for which we are THANKFUL! Our families, friends and teachers jump to mind. But the month of November also reminds us to be thankful for the military forces that keep our country a free nation.
As part of a Veterans Day unit, 8th graders will visit the Jacksonville Freedom Fountain and local memorials to consider the sacrifices others have paid for our freedom. Students will visit the Beirut Memorial, a solemn memorial for the 273 Marines who gave the last full measure of devotion in Lebanon and Grenada on October 23, 1983. They'll also pass the 9/11 beam from the Twin Towers presented to the first troops who invaded Iraq on behalf of the police and firefighters of New York.
NBMS students will also consider the sacrifice represented by the Vietnam Memorial. The glass walls that encompass the central fountain are inscribed with the names of the 58,229 men and women who lost their lives in the Vietnam War.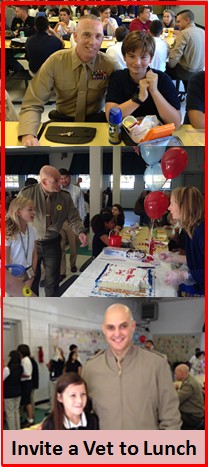 On Nov. 10, 2015, Mrs. Bender (counselor) has organized our annual Invite a Vet to Lunch day. Each year, dozens of current and past military friends and family visit to have lunch with students. Grandparents, parents, uncles, aunts, and a few family friends are invited to this annual event. Breaking bread and sharing stories, our military vets always make this day very special.
With the Marine Corps Birthday (Nov. 10) and Veterans Day (Nov. 11), students in all grade levels hear from speakers from the United States Marine Corps and other services.

One special guest from our last visit was Col. McLellan. At the time. Col McLellan was the commander of Marine Special Operations Support Group (MSOSG), U.S. Marine Corps Forces Special Operations Command (MARSOC). He was on hand to support several of his Marines as they made impactful presentations to our students.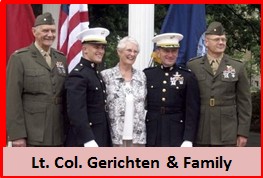 Several of our teachers and staff have served the country through the military. Leading our Vets is Lt. Col. Gerichten (6th grade Social Studies). Lt. Commander Duane, a current reservist, serves as our school nurse. Mr. Long (media), Mr. McBroom (ISS), and Officer Mills (SRO) have also worn the uniform of our nation's fighting forces.
While eating and celebrating this Thanksgiving, we will remember the men and women that serve our country. We wouldn't be free without our vets! Bears have pride!